Block bookings: The key benefits for NHS locums & temporary staffing teams

Earlier this week we introduced block bookings functionality into our product for all users. 'Block bookings' refers to the practice of booking locum shifts for a specified period in advance, such as for a week or a month. 
Keep reading to discover three key benefits using block booking can provide for both hospitals and clinicians.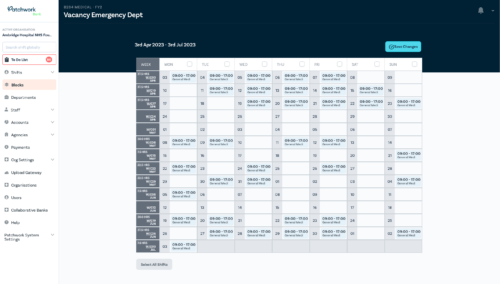 Improved patient experience through continuity of care
Block booking locum workers allows hospitals to schedule the same clinician for a set period of time, which ensures continuity of care and consistency in patient management. Clinicians will also become more familiar with departmental procedures, systems, and protocols, which can lead to improved quality of care and patient outcomes.
Improved work-life balance, and professional development opportunities for workers
Working on a regular basis with a particular team or department allows locum workers to build stronger relationships with colleagues and patients, which can help to improve their communication and interpersonal skills. Additionally, block bookings often provide locums with more stability and consistency in their work schedule, allowing them to better plan their professional development activities such as attending training or pursuing further qualifications. Finally, by working in different environments, clinicians gain exposure to a range of clinical situations and can develop their adaptability and problem-solving skills, which are valuable for their professional growth.
Increased efficiency
By block-booking clinicians, hospitals can better plan and manage their staffing needs, reducing the need for last-minute recruitment. The practice also reduces the administrative burden of scheduling, recruitment, and payment processing, freeing up hospital staff to focus on patient care and other essential tasks.