£80 million in workforce savings: driving financial improvements with Patchwork
Discover how 50+ NHS organisations are making workforce management more sustainable and cost-effective with best-in-class technology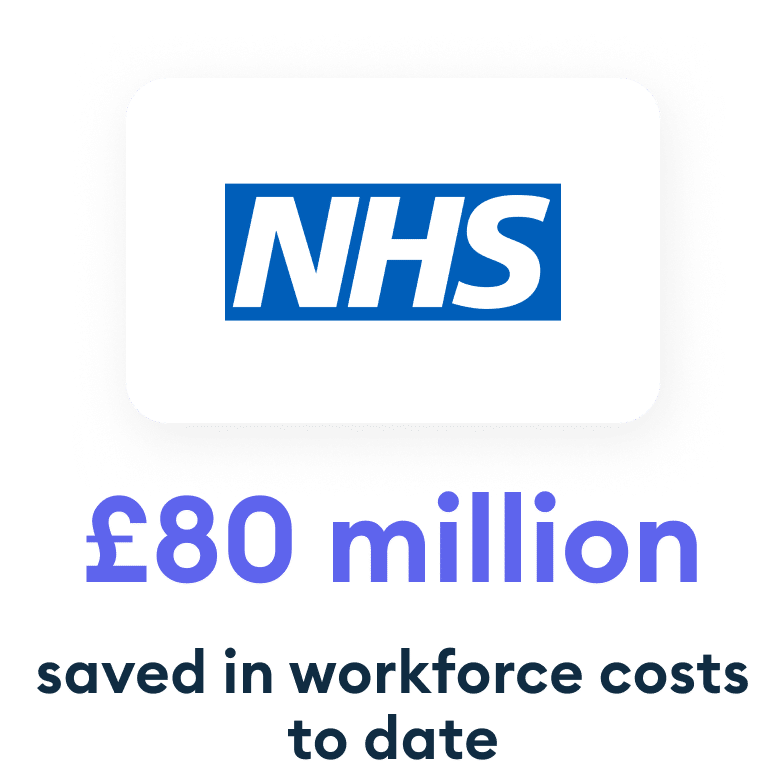 The Challenge
Previously, many of our partners were facing a number of workforce challenges, which put a significant strain on staffing budgets. 
With staff vacancies increasing and organisations working under pressure to plug these gaps, pre-existing workforce systems created an overreliance on costly external agencies, and a high volume of rate escalations had become standard practice.
As a result, our NHS partners sought to address the financial impact of staffing challenges in a flexible and sustainable way – starting with improving temporary workforce planning and management.
The BMA

has shared that the UK Health and Social Care budget is slowly declining, making saving money an even bigger priority for organisations.

During 2021-22,

£3 billion spent on agencies

to provide nurses and doctors at short notice.
The Solution
Patchwork has many tools that help healthcare organisations reduce spend. We have partnered with over 50 NHS organisations to drive cost efficiencies, saving £80 million in workforce costs to date through our temporary staffing solution – Patchwork Bank.
Co-designed with the NHS, our solution has financial control at its core, and is purpose-built to help organisations reduce workforce spending in a sustainable way. Our NHS partners are now able to track workforce spending with ease, informing decision-making and ensuring teams never lose sight of the most important information.
110% growth in staff bank in 6 months at Northampton General Hospital NHS Trust
£1.2 million saved annually from reduced agency spend at Chelsea and Westminster Hospital
Fewer than 3% of shifts paid at escalated rates in 9 month period at West London NHS Trust
Increasing bank growth and fill
Growing a bank of temporary workers an organisation can count on is essential in the current staffing climate. 
Previously, organisations had access to a limited number of available temporary workers, meaning shifts were often filled at the last minute, increasing pressure on staffing budgets. By establishing and growing a digitised staff bank, each organisation now has access to a larger dependable workforce supply and greater visibility of rates of pay, driving down spend.
Advanced visibility of vacancies on an intuitive system

Recruitment and onboarding support to attract new bank staff

Easy-to-use app facilitates a frictionless booking experience for clinicians
Patchwork Bank helps temporary staffing teams to not only utilise their existing workforce but to grow a reliable bank of new workers too. 
62% bank growth in the past 12 months across Patchwork organisations 
81% average shift fill rate with over 1,300 shifts filled monthly over a 19 month period at a large Trust in London
72% of all onboarded bank workers have worked at least 1 shift in the past 90 days
Managing agency spend
Tackling the overreliance on agencies in the NHS is key. However, without the right infrastructure in place, this can often feel out of an organisation's control. 
Maintaining safe staffing levels is rightfully the priority, meaning our NHS partners previously had no choice but to turn to costly agencies.
With software that provides full transparency across an organisation's workforce, Patchwork enables organisations to tackle the root causes of high agency spend.
Inspiring more cost-efficient behaviour: At London North West University Healthcare NHS Trust, encouraging the conversion of agency locums to the internal staff bank saves an estimated £250,000 per 10 locums converted. 
62% decrease in agency spend in just the first 6 months at Chelsea and Westminster Hospital NHS Foundation Trust
20% reduction in unfilled shifts

at Northampton General Hospital NHS Trust

£177k saved in the first 9 months from harmonised rates & agency avoidance at York and Scarborough Teaching Hospitals NHS Foundation Trust
Your rates in your hands
Without a solution fit to manage workforce spend effectively, our NHS partners were unable to plan for temporary staffing cover in advance, often meaning vacancies were filled at the last minute at escalated rates. By being able to plan bank shifts well in advance with Patchwork Bank, organisations can now set affordable rates and minimise unnecessary escalations – ensuring shifts are always with the most cost-effective worker. 
Rate control is pivotal in maintaining oversight of workforce spend. Our rate escalation tool was developed to ensure NHS organisations can manage the rates and overall spend on their bank shifts. Access to shift data can enable organisations to align on agreed rates and reduce escalations. As a result, our in-built tool has helped organisations maintain consistency and control over workforce spend. 
Escalated shifts reduced, from 72% to only 12% at London North West University Healthcare NHS Trust
Pay rate escalations reduced to 32% average in the last 12 months vs 54% in the first 12 months with Tees, Esk and Wear Valleys NHS Foundation Trust
Our Rota product integrates seamlessly with our temporary staffing platform, providing an end-to-end workforce solution that helps organisations make cost-effective staffing decisions.
Results
110% growth in staff bank in 6 months at Northampton General Hospital NHS Trust
£1.2 million saved annually from reduced agency spend at Chelsea and Westminster Hospital NHS Foundation Trust
Fewer than 3% of shifts paid at escalated rates in 9 month period at the West London NHS Trust Patchwork has transformed our staff bank! The Trust has reduced its agency spend by significantly improving our bank fill rates. Our service managers have better control over their locum activity, and the clinicians love the app too.